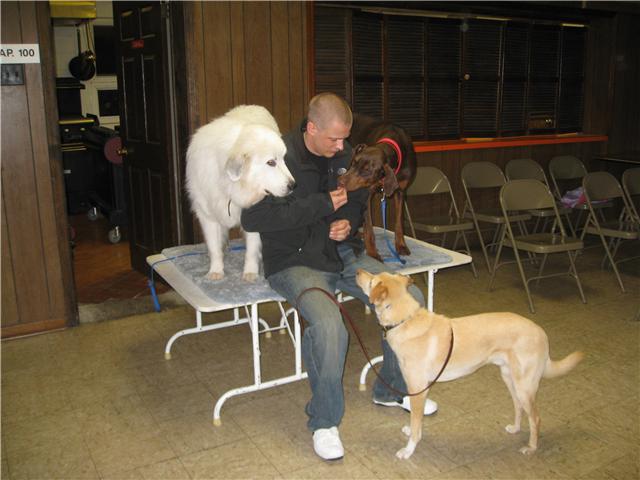 Basic & Novice Obedience
Why a Class?
Socialize your dog with people and other dogs.

Learn methods to correct your dog's destructive habits.

Controlled distractions

Small class size 4-9 dogs

Have a fun night out with your dog!
To accommodate your busy schedule, Vince holds group training classes at two locations. He teaches in Hillsdale at "Reigning Cats & Dogs" grooming salon and at the Ringwood Stonetown Firestation in Ringwood.
---
Basic Obedience
For dogs 12 weeks and older. Classes meet once a week, for an hour a week, for 6 weeks. Everyone in the family is invited to come and work the dog, especially kids. Your dog will learn new commands each week, such as:

Sit/Stay/Down

Touch for Grooming/Vet

Walk Properly on a Leash

No Jumping

No Mouthing

Take It - Leave It - Drop It
and much, much more.......
---
Novice Class

Novice classes are offered to everyone that has completed Basic Obedience. The class consists of all levels of trained dogs from people who just moved up from Basic to dogs that have been coming for years. Where else can you go to socialize your dog with other dog owners? The Novice class fine tunes what is taught in Basic as well as prepare dogs for the Canine Good Citizen Test. It is necessary to pass this test in order to register your dog for Pet Therapy Certification.
---
Vince Rambala Dog Training
P.O. Box 44
Oakland, New Jersey 07436
(201) 337-PAWW (7299)
pawws@hotmail.com
© Vince Rambala